ToPerfectArt Newsletter
For updates, special offers and promotions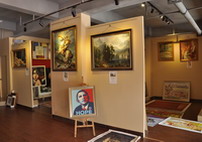 Noah Art is located in Haicang Oil Painting District of Xiamen, Fujian province. We are a direct manufacturer of hand-painted oil paintings including museum quality famous oil painting reproduction, custom portrait oil painting from photo and modern decorative wall art. We supply also HD giclee canvas prints and picture frames. The founder, Tom Wang, named the company by "Noah" from bible because he wants to bring the customers and staffs into a new world as Noah did, so, we concern much about the business success of customers and growth of staff. Our vision is to inspire the life of all people in the world by affordable and creative art.
We have been engaging in oil painting industry since 2007. After a decade years of developing, we are now working with over 400 professional artists. Our artists have at least 15 years of painting experience. They are graduated from fine art colleges and are highly acquainted with traditional oil painting technics. The artists work in several teams according to the art style they specialize in, abstract, impressionist, classical, etc... Each team has a team leader (usually the most senior, most experienced artist) whose job is to ensure each piece produced by this team is good quality.
Reproduction Art is replica of famous art. They are usually commissioned by museums for security and insurance reasons, or by art enthusiasts who saw the original in museums and would like to own an exact copy hung up in their home. That is why we call as "MUSEUM QUALITY" because the likeness to the original is very high, around 80-90%. Our reproduction oil paintings are handmade in traditional oil painting way with premium quality art materials. You can hang on the wall for generations. We use only super skilled artists for old master reproduction.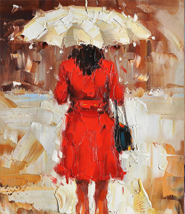 Oil paintings by palette knife are a new modern impressional art technic. It is more and more enjoyed by people for the crisp and sharp strokes, clean and vivid colors, and thick textured effect. Sometimes, it is completely by knife, sometimes, it is by knife together with brush.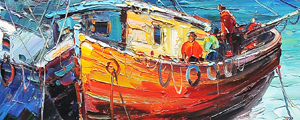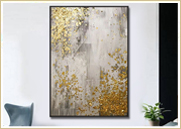 Decorative art is usually modern abstract design of colors, geometric shapes, and figurative subjects of landscape, flower, still life, seascape, etc… Decorative art is painted by textured oil or acrylic paints. Sometimes, special materials like metallic, textile, plaster are utilized to create strong visual effect. Floating frames are usually added to this kind of modern decorative wall art.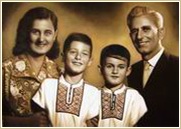 Our artists can turn a digital photograph into a handmade oil painting, including human, pet, landscape, building or transportation. It may be a photo taken in holiday that was really memorable, or perhaps a photo you took of a loved one wedding day. The painting is very special that you can show off proudly in your home. A portrait oil painting could also be a fantastic gift to give.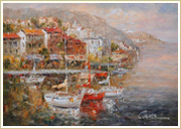 We have over 1,000 oil paintings in stock. You will receive what you see on our website. And, they will be shipped immediately once you place the order. You don`t need wait the 2-3 weeks. We will ship your order in 2-3 business days once you pay. And we add new subjects to stock collection regularly. It is very good choice for art wholesalers and gallery owners.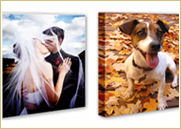 Giclee (pronounced Gee'clay) is a French term meaning to spray or squirt. However, it is not the same as a standard desktop inkjet printer. Giclee canvas print is much larger. Our Giclee is printed on canvas by Mutoh Valuejet. It represents the original details and colors very exactly.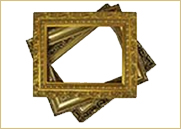 Our frames are made of wood fir and gypsum. We offer frames in styles of gold, silver, coffee of brown, studio White, highland black, etc… We have a numerous and updated selection to meet our customers` need.

Our stretcher is made of high qulaity fir wood. We offer different thickness, 2cm, 3cm and 4cm, 5cm. We supply also unassembled bar to save shipping cost.
Firstly, when the paintings are finished, we email you photos of the paintings. Our guarantee is that we will revise the paintings until it meets your expectation. Our second guarantee is when you receive the paintings, you are free to return for more revision or for a full refund minus the actual shipping cost. Our refund policy is valid for 7 days after you receive the paintings.